As a finance professional, handling and managing the hard-earned money and the dreams of investors, also brings with it an implicit fiduciary responsibility, that we continuously upgrade and upskill ourselves to keep abreast with the latest happenings in an unbiased manner.
Out of the vast treasure of knowledge, news, analysis, and data available on the Net, I have shortlisted a list of 22 Blogs that I have found most useful to develop my understanding of the complex subject of Investing, markets, valuations, investor behaviour, trends, macros etc. – all factors which help us evolve as investors and design optimal strategies for client portfolios, to help them achieve their goals.
They are presented in no particular order, and let me assure you there are many more blogs / authors who contribute meaningfully and simplify the finance and investment mysteries. I am sure I have missed out some noteworthy ones. Hence please feel free to add to the list /edit it, but definitely use these blogs for your learning.
Collaborative Fund – Morgan Housel https://www.collaborativefund.com/blog/authors/morgan/
Morgan Housel is a partner at The Collaborative Fund and a former columnist at The Motley Fool and The Wall Street Journal. He is a two-time winner of the Best in Business Award from the Society of American Business Editors and Writers, winner of the New York Times Sidney Award, and a two-time finalist for the Gerald Loeb Award for Distinguished Business and Financial Journalism. Morgan has presented at more than 100 conferences in a dozen countries.
He speaks about behavioral finance and history, using storytelling to explore how investors deal with risk and how we can think about risk in a more productive way. He has written this recent bestseller, The Psychology of Money – a great read which has sold over a million copies.
Howards Marks Memos https://www.oaktreecapital.com/insights
Howard Marks is the cofounder and co-chairman of Oaktree Capital Management, a Los Angeles-based distressed debt investor. Warren Buffett once said, "When I see memos from Howard Marks in my mail, they're the first thing I open and read. I always learn something." A must read for anyone wanting insights and clarity on the markets, economy and their behaviour.
Musings on Markets – Aswath Damodaran https://aswathdamodaran.blogspot.com/
Aswath, the Guru of Valuations is a Professor of Finance at the Stern School of Business at NYU and has written a wonderful book called 'Narratives and Numbers'. Famous for his valuation of Uber back in 2014 and more recently is blog on valuation of Paytm and Zomato was really insightful. Known for his strong views against ESG investing, his blogs always offer a new perspective.
Finshots: https://finshots.in/
My daily morning must read. A 3-5 minute read offering Great insights on topical news and trends, easy to read stuff, no jargon.
Read on : https://readon.in/
I like their tag line – 'Making India Financially intelligent'. Topical, well researched, easy to read, 3-5 minutes read with their weekly summary in case you miss. Gives me my regular updates on current business topics.
Irrelevant Investor: https://theirrelevantinvestor.com/
Michael Batnick is a CFA and the Director of Research at Ritholtz Wealth Management LLC. His daily blogs are well researched, cover the markets in detail and give a great historical perspective. His blog provides me the thoughts and topics for what I need to study and write about in context of the Indian market.
Farnam Street : https://fs.blog/
Their tag line says it all.
Brain Food. A weekly newsletter packed with timeless insights and actionable ideas from a wide range of disciplines. Not your ordinary investing blog, Shane Parish's Farnam Street delves into the human psyche and asks how we operate. Some of his work on mental models is definitely worth a read if you are trying to improve your problem-solving skills and critical thinking, or if you just have a general interest in how the human brain work
Jason Zweig : https://www.wsj.com/news/author/jason-zweig
Jason Zweig writes The Intelligent Investor every Saturday for The Wall Street Journal. He is the author of Your Money and Your Brain, on the neuroscience of investing, and the editor of the revised edition of Benjamin Graham's The Intelligent Investor, the classic text that Warren Buffett has described as "by far the best book about investing ever written."
Sahayak Gurukul Blog: https://www.sahayakassociates.in/blog/
For us at Sahayak Associates, spreading Financial Literacy is a passion. The Sahayak Gurukul Blog is our humble attempt to share thoughts and knowledge on aspects related to Personal Finance and Wealth Management. We provide financial insights into the markets, economy, and Investments. Whether you are new to the personal finance domain or a professional looking to make wise investment decisions, our blogs are curated to demystify investing, simplify complex personal finance topics and help you make better and optimal decisions about your money while keeping it entertaining and enjoyable
3 Longs & 3 Shorts: https://marcellus.in/three-longs-three-shorts-what-we-read/
My eagerly awaited and favourite Sunday Read. They bring the 6 best articles of the week with a small summary and they are all not necessarily related to finance and investments.
Ruchir Sharma : https://timesofindia.indiatimes.com/blogs/author/ruchirsharma/
Ruchir till recently was the Head of Emerging Markets and Chief Global Strategist at Morgan Stanley Investment Management. He joined Morgan Stanley in 1996 and has worked throughout his career as both an investor and writer. Based in New York, he is a contributing opinion writer at The New York Times. His work has also appeared in the Wall Street Journal, the Financial Times, and he writes regularly for the Times of India. He also does this wonderful annual program on NDTV with Prannoy Roy titled, 'Top Trends of the year' where he reviews lasy years trends and predicts the current year trends. Iam a big fan of his columns and his books.
SafalNiveshak : https://www.safalniveshak.com/blog/
Vishal Khandelwal through his blog Safal Niveshak shares his thoughts on value investing, personal finance, behavioral finance, and life. I Like his format, where he introduces his concept through a story, adds some quotes and then goes on to explain his concept on investing and personal finance.
Swaminathan Ankleshwar Aiyar : https://timesofindia.indiatimes.com/blogs/Swaminomics/
Swaminathan S. Anklesaria Aiyar is an Indian economist, journalist, and columnist. He is consulting editor for the Economic Times and writes regularly for the Economic Times and The Times of India. His columns offer a great perspective on the macro and goes further into the micro details in easy to read language, thereby clearing many a funda.
Neelkanth Mishra – Business Standard : https://www.business-standard.com/author/search/keyword/neelkanth-mishra
Neelkanth Mishra, is a renowned entrepreneur and industrialist, and is the Managing Director, the India Strategist and Co-head of Equity Strategy, Asia Pacific, for Credit Suisse. He is a part of the Advisory Council to the 15th Finance Commission, and has been an advisor to committees appointed by the Government of India. He writes regularly for the Economic Times, Business standard and Times of India on the Economy, Macros etc.
Monika Halan : https://monikahalan.wordpress.com/
Monika is a personal finance writer, speaker and author (Let's Talk Money). She is a regular speaker on financial literacy, regulation, inclusion, and consumer issues in retail finance. Used to follow her columns in the 'Mint' regularly for her thoughts on personal finance and money matters.
Network FP Think Tank : https://networkfp.com/thinktank/
Network FP Thinktank is an Online Professional Journal by Network FP wherein they share the articles written by top-class financial advisors and industry thought leaders from across India and the world. A great weekly 5 minutes read and most topics are of latest interest of the financial community.
Of Dollars and Data – Nick Maggiulli: https://ofdollarsanddata.com/
Nick delivers some amazing analytical commentary on investing and personal finance. Some of his older content really resonated with me, but over the last year, I've really enjoyed his takes on a variety of topics.
The Reformed Broker: https://thereformedbroker.com/
Joshua Brown is New York based Financial advisor and writes his Blog posts on markets, economics, media, and finance. He provides you with a running commentary of market-related insights and thoughts as events unfold.
Akash Prakash, the Head of Amansa Capital writes a fortnightly column for The Business Standard. He has successfully predicted several trends and market movements on a regular basis.
A wealth of common sense –Ben Carlson https://awealthofcommonsense.com/
Ben does a great job explaining really complex investment concepts in a simple way. He doesn't get too caught up in this hot trend or that, but he uses real life examples to highlight bigger, more important concepts. Check it out if you want some macro level insights. You also will probably enjoy his podcast, 'Animal Spirits.'
The Big Picture – Barry Ritholtz: https://ritholtz.com/
I discovered Barry's blog some years ago, and I have been reading them regularly ever since. He posts multiple times a day, so there is always something to read. I love his combination of investing insight and general commentary. He basically shares his thoughts on the market and the economy, and anything else that's on his mind. Just the right length, reader friendly, I find his blogs very easy to read, yet very interesting at the same time.
First Global Blogs: https://www.firstglobalsec.com/blogs/
Have always been a great fan of Shankar Sharma and Devina Mehra and their approach to investing. Their contra style and open mindedness to different markets and asset classes is worth emulating. The blogs on their site are equally insightful and display a clear understanding of the investing business.
Apart from the above, I regularly follow the writings and now increasingly podcasts of commentators like Udayan Mukherjee, Gurucharan Das, Joydeep Sen, Industry leaders like Kalpen Parekh, Naveen Munot and many others. The idea is to grab knowledge with both hands whenever the opportunity arises. CFA Society, Mornning Star and Bloomberg are of course great providers of knowledge, and you must subscribe to them.
Reading these blogs also triggers my mind and many a topic for my writings are sourced from these readings. They also help identify trends, bring clarity in my thought process and portfolio strategies get refined while understanding the concepts and interpreting data so beautifully encapsulated in these writings.
Happy Reading!
Start your journey of knowledge gain today.
Kindly check our earlier blog on a similar subject : Investment Lessons from Mythology at https://sahayakgurukul.blogspot.com/2019/03/investment-lessons-from-mythology.html OR https://www.sahayakassociates.in/resources/our-blog/2553-sahayak-associates/sahayak-associates-blog/8435-investment-lessons-from-mythology
Note: All information provided in this blog is for educational purposes only and does not constitute any professional advice or service. Readers are requested to consult a financial advisor before investing as investments are subject to Market Risks.
About The author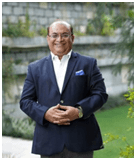 After completing his schooling from St. Johns, Chandigarh (Class of 1980) and Modern School, New Delhi, (Class of 1982) Sandeep did his B. Com (Hons.) from Shri Ram College of Commerce, Delhi University (Class of 1985)
Sandeep is an alum of IIM Lucknow with a Post Graduate Degree (MBA class of 1988).
He has also written two books, 'Dear Son, Life Lessons from a Father' on the teachings of Life https://www.amazon.in/dp/1637815271 and the Second book which he has Co Authored titled, 'What My MBA Didn't teach me about Money' on the Human and Financial perspective of money. https://www.amazon.in/dp/1637816502
He has a rich work experience and started his career as a corporate man with Asian Paints after IIML. He has a rich experience covering the FMCG, Food Distribution, Cold Chain, Logistics, and Hospitality Industries. He is currently in the Wealth Management and Personal Finance domain. He has a passion for finance and is an active speaker on topics in finance. The stories he narrates strike a chord close to his heart, as they are based on events from his own life. He believes in a holistic view of Personal Finance.
Sandeep's investing experience and study of the Financial Markets spans over 30 years. He is based in Chandigarh and is advising more than 500 clients across the globe on Financial Planning and Wealth Management.
He has promoted "Sahayak Gurukul" which is an attempt to share thoughts and knowledge on aspects related to Personal Finance and Wealth Management. Sahayak Gurukul provides financial insights into the markets, economy and Investments. Whether you are new to the personal finance domain or a professional looking to make your money work for you, the Sahayak Gurukul blogs and workshops are curated to demystify investing, simplify complex personal finance topics and help investors make better decisions about their money.
Alongside, Sandeep conducts regular Investor Awareness Programs and workshops for Training of Mutual Fund Distributors, and workshops and seminars on Financial Planning for Corporate groups, Teachers, Doctors and Other professionals.
Through his interactions and workshops, Sandeep works towards breaking the myths and illusions about money and finance.
His passion has driven him towards career counselling for young adults and mentoring the youngsters on achieving their life goals and becoming "Successful Humans"
He also writes a well-read blog; https://sahayakgurukul.blogspot.com
He has also conducted presentations, workshops and guest lectures at professional colleges and management institutes for students on Financial Planning and Wealth Creation.
He can be reached at:
+91-9888220088, 9814112988,
[email protected]
Follow on:
www.sahayakassociates.in,
www.facebook.com/sahayakassociates,
www.twitter.com/sahayakassociat,https://www.instagram.com/sahayakassociates/
https://sahayakgurukul.blogspot.com, https://www.sahayakassociates.in/resources/our-blog